Meet Chef Susan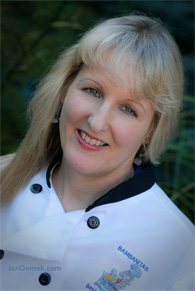 Susan has loved cooking since childhood, studying home economics and being a 4-H Member. She was raised by health enthusiasts and was taught early the importance of eating healthy and well-balanced meals.
In her young adulthood, she experimented with all kinds of healthy and alternative cooking methods. Giving up Sugar, white flour and coffee all for one year, cooking instead with whole grains and honey and fruit.
Susan Graduate from Antioch University Seattle in 1996 with a B.A. in Psychology, Nutrition & Writing. During her studies there, she took classes at Bastyr University, and worked with a Nutritionist while creating her own cookbook.
Health and Fitness is a life long priority for Chef Susan, who worked as Weight Loss Counselor. She thoroughly enjoys using her passion for cooking and combining her knowledge and appreciation of eating wholesome healthy fresh foods, and creating wonderful meals and parties for her clients.
Susan has always enjoyed entertaining and loves creating wonderful parties for her clients from small gatherings to large parties for over 100.